Parasailing And Paragliding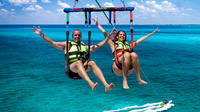 Parasailing in Cancun Including Transport
Parasailing & Paragliding
Price $65.00
Enjoy the best view of Cancun's crystal clear waters, flying at 80 meters high (240 ft) as you parasail in Cancun. Soar the sky and amaze yourself with Cancun's matchless water colors, Cancun's hotel Zone, Isla Mujeres and Nichupt' Lagoon at it's best. This is a 100% safe activity and no previous experience is required. Take off and landing from the boat, you don't get wet, unless you want to.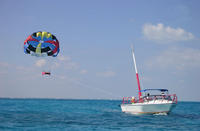 Cancun Parasailing Adventure
Parasailing & Paragliding
Price $58.00
Did you ever want to go parasailing but were afraid to do it alone? Imagine the feeling of soaring high above the Cancun hotel zone and exploring all the sites from a bird's-eye perspective! On the Cancun Parasailing Adventure you can do just that - and not alone but with a friend! Comfortably seating up to two passengers, this experience allows you to sit back and take in all the sights from the Cancun skyline.