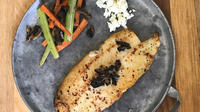 Private or Shared Cooking Master Class of Mexican Cuisine and Markets Tour in Cancun
Cooking Classes
Price $128.00
Enjoy a unique and one-of-a-kind tour in Cancun by visiting the famous Market 23 (Mercado 23) and Market 28 (Mercado 28). You will be guided by a professional chef and enjoy a typical Mexican lunch.''The private tour is guided by a professional chef with years of experience working in one of the best restaurants in Cancun.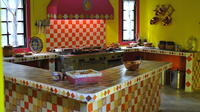 7-Course Mexican Cooking Experience and Feast with Transport
Cooking Classes
Price $180.00
Enjoy a wonderful cooking class and experience in the Riviera Maya /Cancun. Learn how to cook authentic Mexican food and then take part in a gourmet meal in a completely Mexican environment. You will be treated like a VIP family member in a very private cooking school, and learn the best Mexican dishes in a hands-on cooking class, then be invited to a party where you will enjoy the delicacies you cooked. This is a small group tour in the Mayan jungle offering a once-in-a-lifetime experience.